Team Supreme
Supreme Thoroughbreds has a first class team of owners, staff and equine professional consultants.
Brent Grayling
All his adult life Brent has been involved with horses. He started in the trotting industry in New Zealand where he became an accomplished harness driver and by the age of 21 he was managing the largest standard breeding stud in New Zealand. Brent switched his attention to thoroughbreds over 20 years ago and since then has worked as the manager of a large broodmare organization in New Zealand and was the broodmare manager of Glenlogan Park in Queensland for 3 years. Brent was the first employee of the Fleming Group's Eliza Park and was instrumental in guiding this business into becoming one of Victoria's leading thoroughbred stud farms.
Brent is one of the four founding members of Supreme Thoroughbreds and he has now been able to realize his dream of running his own boutique broodmare farm.
Adrienne Grayling
Adrienne has over 25 years experience in the horse industry including experience at some of the major stud farms in New Zealand, Queensland, New South Wales and Victoria. This includes over 13 years employment at a major Victorian stud farm where she was responsible for broodmare management, foaling down, vet nursing, weaning and yearling preparation.
Adrienneis one of the four founding members of Supreme Thoroughbreds and now appreciates the opportunity to apply her many years of experience and considerable skills to the management of her own broodmare band.
Neil Shaw
Neil has a life-long interest in thoroughbreds and was a long-time client and associate of Brent Grayling. Neil's initial training & experience was in management before he ran his own very successful specialised printing business for over 20 years. During this time he bred and raced thoroughbreds with a large degree of success.
Neil's passion is thoroughbred pedigrees – pedigree analysis, selection of sires,predictive analysis of the next "hot" stallion. Neil is one of the four founding members of Supreme Thoroughbreds and he wakes every morning looking forward to applying his business acumen together with his passion for pedigrees and securing the best deal for our clients.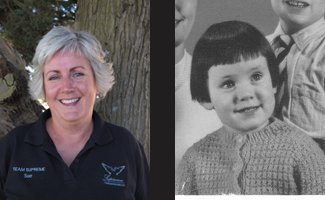 Sue Shaw
Sue has over 30 years experience in all aspects of management and administration. She ran her own private consultancy before joining Neil to manage their very successful specialised printing business. Sue oversees the administration side of the Supreme business which frees up Adrienne, Brent and Neil to apply their expertise to the practical side of the business. Sue is one of the four founding members of Supreme Thoroughbreds and she knows which end of the horse eats.
Staff
In addition to the four partners, the Supreme Thoroughbreds team includes Ben Tyrrell. Ben worked with Brent and Adrienne for 5 years at Eliza Park and came on board with Team Supreme in 2009 and is now taking on the role of yearling manager. Team Supreme also includes Barry Faulds and Rachel Peake, who are both well known in the industry, and new-comer Chris Grayling. Chris is the next generation of Grayling to enter the thoroughbred industry and is learning the ropes from the best in the business. Rounding out the team is Tony Pine, our property & equipment maintenance guru. Team Supreme is also joined by other regular seasonal and expert staff as needed.
Consultants
We are extremely fortunate to be able to call upon the professional services of the most highly qualified and experienced consultants in the thoroughbred industry. This includes specialist equine fertility veterinarians, a general equine veterinary service, an equine chiropractor, a farrier, an equine dentist and an equine massage therapist.